Baccarat en Banque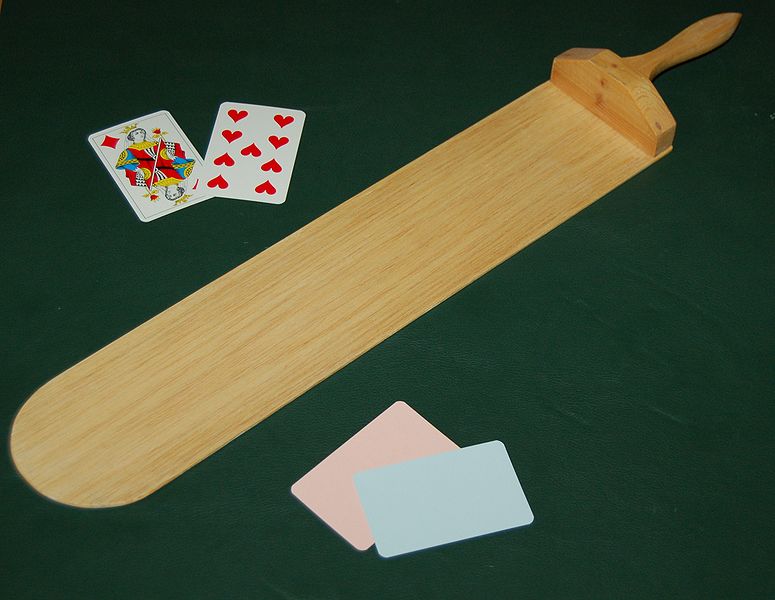 In Baccarat en Banque (also known as simply Baccarat Banque), the game mostly follows the same rules as the original baccarat version, Chemin de Fer. However, this version of the game has a few rule changes that allow one player to remain the banker for much longer, unlike in Chemin de Fer, where players routinely took turns at the banker. This made Baccarat en Banque a more popular option for players who did not feel comfortable staking a large amount to cover bets from all of the other players at their table.
How to Play Baccarat en Banque
In Baccarat en Banque, the right to be the banker is put to auction at the start of the game, with the player willing to risk the largest sum of money being allowed to bank the game.
Each player can choose to bet as much as they like, including 'going bank' by betting the entire amount left in the bank. Traditionally, the table is divided into a left and right side, with the order of betting moving back and forth between the two. It is possible for up to two players to go bank (one on each side), in which case they would each get to bet half of the amount of the banker's stake.
After all players have made their bets, the banker is ready to deal out each hand. Baccarat en Banque is played using a shoe of 2-4 decks. The banker deals out three hands: one for himself, as well as two player hands, one for each side of the table. The players on each side are only concerned with the player hand on their side.
From here on out, the rules are identical to Chemin de Fer. Each hand is comprised of two cards. The value of cards is as follows: an ace is worth one point, cards of 2-9 are worth their number, and tens and face cards are worth 0. A hand's score is determined by adding up the total of the cards in it, and then taking only the final digit of that number; in other words, a hand of 18 is worth 8 points.
One player from each side – traditionally, the player with the biggest stake – will take control of their hand. The player has the option to stand on their two card hand, or take a third card. Traditionally, the player will stand with 6-7, take a card with 0-4, and the player can choose to go either way with a hand of 5. If the player takes a third card, that card is dealt face up. The banker may then choose to stand or take a card at his discretion.
If a player hand beats the banker, the banker pays even money to each player. If the banker wins, all player bets are placed into the bank.
At any time, the banker may choose to retire. At that point, the banker must state the amount of the bank. Players then have the option, in order, of matching that bank amount and becoming the new banker. If no player can match that amount, the banker will again be chosen by auction.
Where to Play Baccarat en Banque?
As far as we are aware, there are no online casino sites that offer either Baccarat en Banque or Chemin De Fer for real money or practice play. The only way to play this game is either at home with a couple of friends or by finding a place where it runs. We are sure that there still are players who play it.
However, if you are passionate about Baccarat, you might want to try the popular American version of it, which is an exciting, low house edge featuring casino game that might be one of the simplest to play. If you are not aware of the rules yet – visit how to play baccarat section of our site.
If you're interested in trying Online Baccarat, we would advise you to join one of the best casinos that way you will know odds will be good and the casino site will be secure. Some online casinos offer betting, casino games and poker in a great all-in-one product. On top of that, their payment processing is second to none – deposits are hassle free using various prepaid cards and Western Union! Visit GamingClub to play poker, betting and casino all in one.
Best Gambling Sites to Play Baccarat en Banque
Site
Bonus
Rating
US
Review
Play Now
1
Gaming Club Online Casino
$350 + 30 Total Free spins

T&C Apply 18+

10

/ 10
2
Jackpot City Casino no Deposit
$£ 1600 + No Deposit 30 Free Spins

T&C Apply 18+

10

/ 10
3
Vegas Paradise Online Casino
$/£1000 + 75 spins New members onlyT&C Apply 18+

10

/ 10
4
Inter Casino
$600

T&C Apply 18+

9.5

/ 10
5
Europa Casino
$2400

T&C Apply 18+

9.4

/ 10
There is also a online casino powered by PlayTech and they offer various forms of Baccarat, including Live Baccarat Online! Join now and you will be treated with a $2,400 Welcome Package + weekly & monthly re-load bonuses.  Visit www.EuropaCasino.com to join right away!