Baccarat Games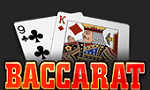 Although you might think that Baccarat is also the only variation of the Punto/Banco game, that is quite far from the truth here. In reality, there are at least 5 variations of this game out there. They might not feature a different set of rules or requirements, but instead a different playing environment.
Lets go through various Baccarat Games and Variations that are offered in both, online and land based, brick & mortar gambling establishments.
American Baccarat
American Baccarat is the most common variation of this game played, whenever you see this game played, it's very likely to be exactly this variation. There are three possible outcomes, thus also types of wagers that can be made – the banker, the player and a tie. House edge is tiny, compared to most gambling games – 1.06%, when wagering on the banker.
Where to Play American Baccarat Online?
We won't get into land based casinos, as just about every one of them will offer American Baccarat. Though, same is the case in online gambling environment – you might much rather have problems finding a casino that does NOT offer this game, than finding one that does.
Mini Baccarat
Mini Baccarat is not really a different variation of the game, but the playing environment is definitely different than in regular game, known to be full with high-rollers and VIP's. Well, Mini variation in the game has been created to offer to play for everyone – even if you want to wager a couple of dollars.
Rules used for this variation of the game are same as for American variation – classic ones that is.
Where to Play Mini Baccarat Online?
Likewise as American variation, Mini Baccarat can also be played at just about every casino in the market. US players might have a harder time, when trying to find a casino site that is US friendly, but other than that, you can take a look at our listings below!
Live Dealer Baccarat
Live Casinos are the upcoming trend in the gambling world and we honestly are not surprised even a bit. Live dealer casino games provide an experience that is far more superior than casual online play. Even if you have never been a big fan of brick & mortar gamble, we can't see a good reason why you would ever choose regular online play over live dealer one.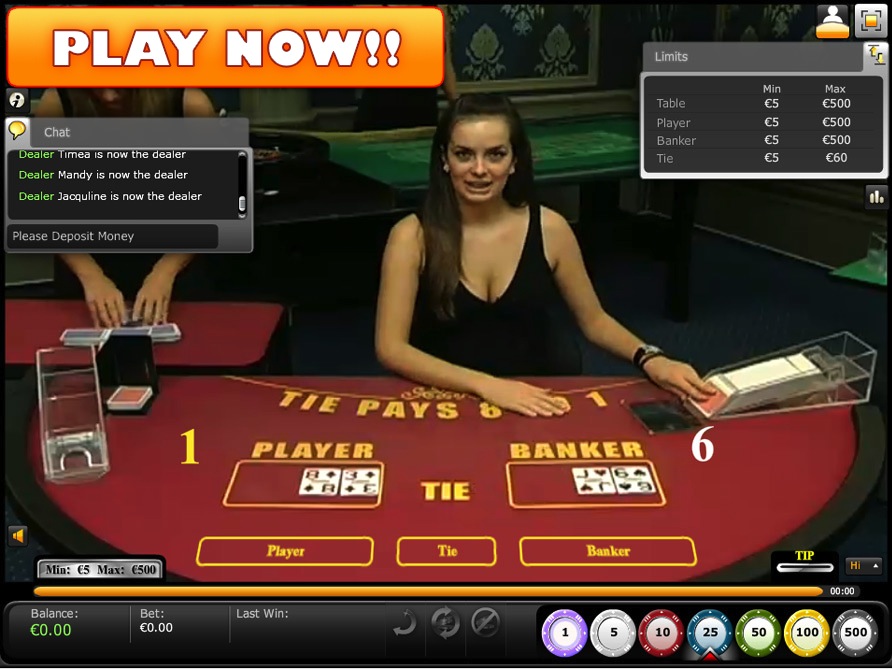 Baccarat, luckily, is one of the most popular live casino games online and is offered at just about every live casino site out there. Well, certainly by the ''big guys'', such as PlayTech, Evolution Gaming and MicroGaming powered casino brands.
Where to Play Live Baccarat?
Everywhere! Just kidding, but that's actually true – whenever you see a casino also offering live games, you can be certain that Baccarat is definitely a part of their offerings. Find our favorite live dealer baccarat casino here
Mobile Play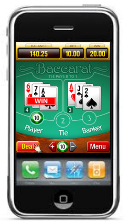 Well, the technologies have definitely taken a massive step forward, as users of smartphones and tablets are also able to play Baccarat online – either for real money or free, that's up to you. The chance is right there, though and offered by one of mobile compatible casinos.
Devices that are supported include iPhones, iPads, all Android powered devices, BlackBerry mobile phones as well as just about any other device that supports Java.  This, of course, depends on the casino site you've chosen, but we would advise GamingClub, Mr.Green as well as JackpotCity Find our favorite mobile Baccarat casinos Here!
Other Variations
Punto Banco is also played in other variations, at least it used to be. Did you know that the game actually comes from France and it used to be played between people who would compete against eachother? Yeah, that's exactly how the whole boom of Casino Baccarat began. These two variations are Chemin De Fer (iron road or ''railway'' ) from the French language as well as Baccarat en Banque. Both of these types are very similar, with a couple of adjustments in terms of rules.
Unfortunately, we have yet to find a place where any of these two forms of Baccarat can be played for real money online.